Over the past several years I have tried to remove "moral outrage" from my rhetorical toolbox.
I don't want to argue that someone else's views are awful, even if I believe they are.
I prefer to build arguments that demonstrate how my position is strong.
I didn't always feel this way. I've used moral outrage in
my arguments
more than once.
But then I recognized something:
When people argue that my position is morally bankrupt, I roll my eyes.
They might have a point. But I will never know, because the moment they go down the path of moral outrage, I tune them out.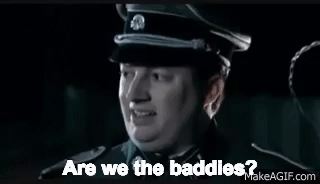 And I'm pretty sure anyone I argue with is going to do the same thing.
No one ever asks, "Are we the baddies?" We all believe that our actions are justified.
So, when I try to convince a person that our disagreement stems from their moral failing, I have already begun to lose the debate.
All that said, today I learned of
the report issued by Amnesty International
detailing the systematic killing of civilians in Saydnaya Military Prison in Syria. And now I have to dust off my moral outrage.
At Saydnaya Military Prison, the Syrian authorities have quietly and methodically organized the killing of thousands of people in their custody. Amnesty International's research shows that the murder, torture, enforced disappearance and extermination carried out at Saydnaya since 2011 have been perpetrated as part of an attack against the civilian population that has been widespread, as well as systematic, and carried out in furtherance of state policy. We therefore conclude that the Syrian authorities' violations at Saydnaya amount to crimes against humanity. Amnesty International urgently calls for an independent and impartial investigation into crimes committed at Saydnaya.
I cannot assemble an argument related to this without moral outrage.
In the 20th century, we defined "human-perpetrated evil" as the systematic murder of civilians by a government. That is not something I will debate.
What was done at Saydnaya is evil.
Supporting the Syrian government is facilitating evil.
If we fail to help people trying to escape from a government that built facilities for the systematic killing its own citizens, that is a moral failure.
If you are rolling your eyes right now, your moral compass is not functioning.