My advisor
Professor Dana Ferris
will sometimes point out a common teaching mistake.
Many composition teachers ask students, "How did you like the reading?"
This question invites students to respond with, "Meh. I didn't really like it." Which shouldn't be a surprise when it comes from an 18-20-year-old enrolled in a required writing class.
Still, many teachers take this response personally because they selected the readings, and teachers most often select readings they enjoy--selections they want their students to enjoy as well.
Professor Ferris explains why this opening question is a mistake: We as teachers do not assign readings in order to entertain our students.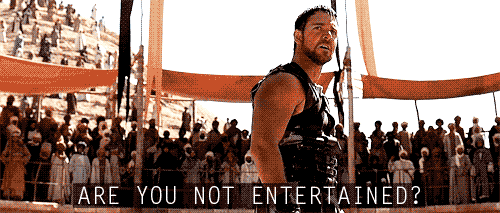 When we select readings and course content, the objectives are first to teach, to challenge, and to expand our students' understanding of the writing process.
I like to point this out to students explicitly. I'll open a discussion early in the term by announcing, "Just so you all know, I don't care whether or not you enjoyed the reading."
Delivered just so, this opening can get a laugh and then lead to a teaching moment about the goals we have in the course (delivered wrong, it can lead to some shocked faces and then to an overly detailed explanation).
I derive no small amount of joy from telling students that I do not care about their opinions of
the work of Lars Eighner
. I go on to explain that a defense of that opinion might be interesting, but I tell them (and this is what I love doing), "Hearing that some college kid simply didn't 'like' an essay is completely uninteresting to me."
That joy of mine is derived from the demonstration that learning requires rigor and patience.
And that makes it difficult for me to understand so many of the recent attacks on education.
In Oklahoma there are
politicians who want to eliminate Advanced Placement US History
because they feel the course too often focuses on the negative parts of our nation's history. Pundits have grabbed this story and upped the ante,
suggesting that such a course is cause for ending public education
.
Then there is the governor of my home state of Wisconsin
undermining the mission of the state's public university system
because the "pursuit of truth" is too abstract a goal when our efforts should really be focused on job training.
And of course
I've written several times
about parents and pundits who
think Common Core lessons are too difficult
.
This is just to say
, the goal of education is not to please people. Educators do not take up this job to entertain or 'take the stage.'
If you are uncomfortable with a history lesson, a research effort, or a math exercise, then deal with it.
Let me repeat that: Deal with it.
I can hear the response now:
But, Hogan, this is different. The politicians in Oklahoma, Gov. Walker, and the GOP have the purse strings and the will of the people on their side.
To which I say this: No one has to challenge themselves. It is a conscious choice to face uncomfortable truths, set lofty goals, or take on difficult tasks.
If that's not for you, you can drop out. Drop out of the class, the role of leadership, the political race, or the effort. You can drop out, but you should not have the power to force others to drop out along with you.
You don't have to enjoy the reading.
Your personal beliefs and preferences will not always be taken into consideration.
Your opinion about 'the work involved' does not change the fact that work will be involved.
If you simply don't like it, I invite you to deal with it or leave.
If, on the other hand, you have an informed and intelligent response to the issues, then by all means, jump in and present your ideas.
Because cutting funding and eliminating programs are not constructive solutions. That's like showing up to class without having done the reading. It leaves us without history, without a mission, and without rigor.